High-Performance Industrial-Grade 4G Dual SIM Cellular Router
InRouter615-S (also IR615-S) is a professional industrial 4G WiFi router for IoT applications. The router is equipped with WiFi, 5- Ethernet ports and advanced networking functionality. Quick to deploy, easy to manage and flexible for applications across the most demanding market sectors. IR615-S will ensure stable connectivity with 4G Dual-SIM failover and 3G/2G fallback

Operation Band
Network type
Model (region)
Band
LTE CAT-3,4 or 6
IR615-S-S-FH20 (EMEA,APAC)
LTE-FDD Band 1/2/3/4/5/7/8/20
UMTS(DC-HSPA+) Band 1/2/5/8
EDGE/GPRS/GSM 850/900/1800/1900MHz
IR615-S-FQ88 (Japan)
LTE-FDD CAT 4 Band 1/3/8/18/19/26
UMTS(DC-HSPA+) Band 1/3/8
EDGE/GPRS/GSM 900/1800HHz
IR615-S-FS18 (North America,AT&T)
LTE-FDD CAT 3    Band2/4/5/17
UMTS(DC-HSPA+) Band2/4/5
EDGE/GPRS/GSM 850/900/1800/1900MHz
IR615-S-FS28 (North America,Verizon Wireless)
LTE-FDD CAT3  Band 4/13
UMTS(DC-HSPA+) Band 2/4/5
EDGE/GPRS/GSM850/900/1800/1900MHz
IR615-S-FS39  (North America, Verizon,AT&T)
LTE-FDD CAT 6 Band 2/4/5/12/13/17/29
UMTS(HSPA+) Band2/4/5
EDGE/GPRS/GSM 850/900/1800/1900MHz
LTE CAT-1
IR615-S-FB53 (EMEA)
LTE-FDD CAT 1 Band 3/7/20
EDGE/GPRS/GSM 900/1800/MHz
IR615-S-FB13  (North America, AT&T)
LTE-FDD CAT 1 Band2/4/12
IR615-S-FB23 ( North America, Verizon Wireless)
LTE-FDD CAT 1 Band4/13
LTE CAT-M1/NB
IR615-FB02 (Global)
Band1/2/3/4/5/8/12/13/17/18/19/20/25/26/28 (Band 39 in M1 only)
IR615-S-EN00
No cellular module
Fully Industrial-Grade Design
EMC level 2, fan-less cooling, solid metal shell, strong resistance to vibration and shock, effectively reduce fault rate.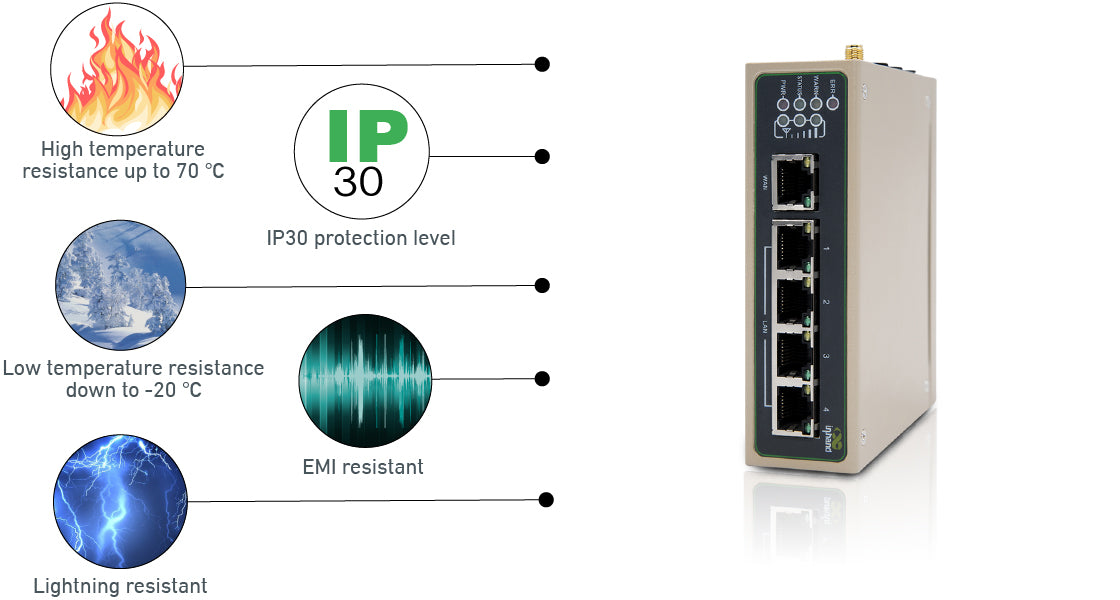 Comprehensive Security


Continuity and Reliability
With wired WAN and 4G LTE backup – customers have full control of their connectivity and dual sim failover functionality makes devices can switch automatically to secondary GSM operator if the main mobile data connectivity is lost.


Easy Web Management
A user-friendly web-based set-up interface that walks you through setup, configuration and management—quickly and easily.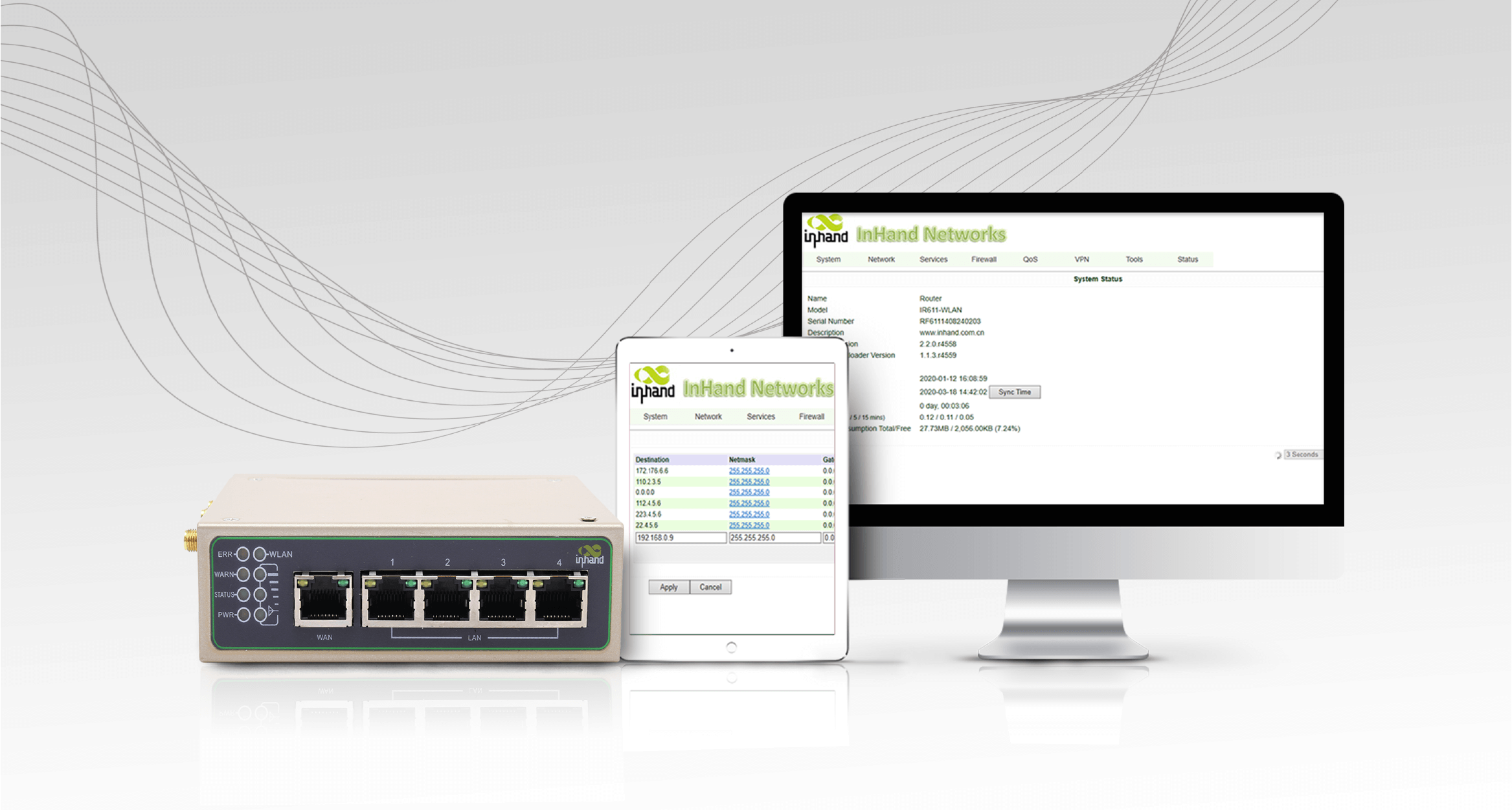 Remote Centralized Management
IR615-S is also compatible with InHand Remote Management System. This platform allows to remotely manage & monitor status and parameters of all routers & gateways by InHand Networks

Product Detail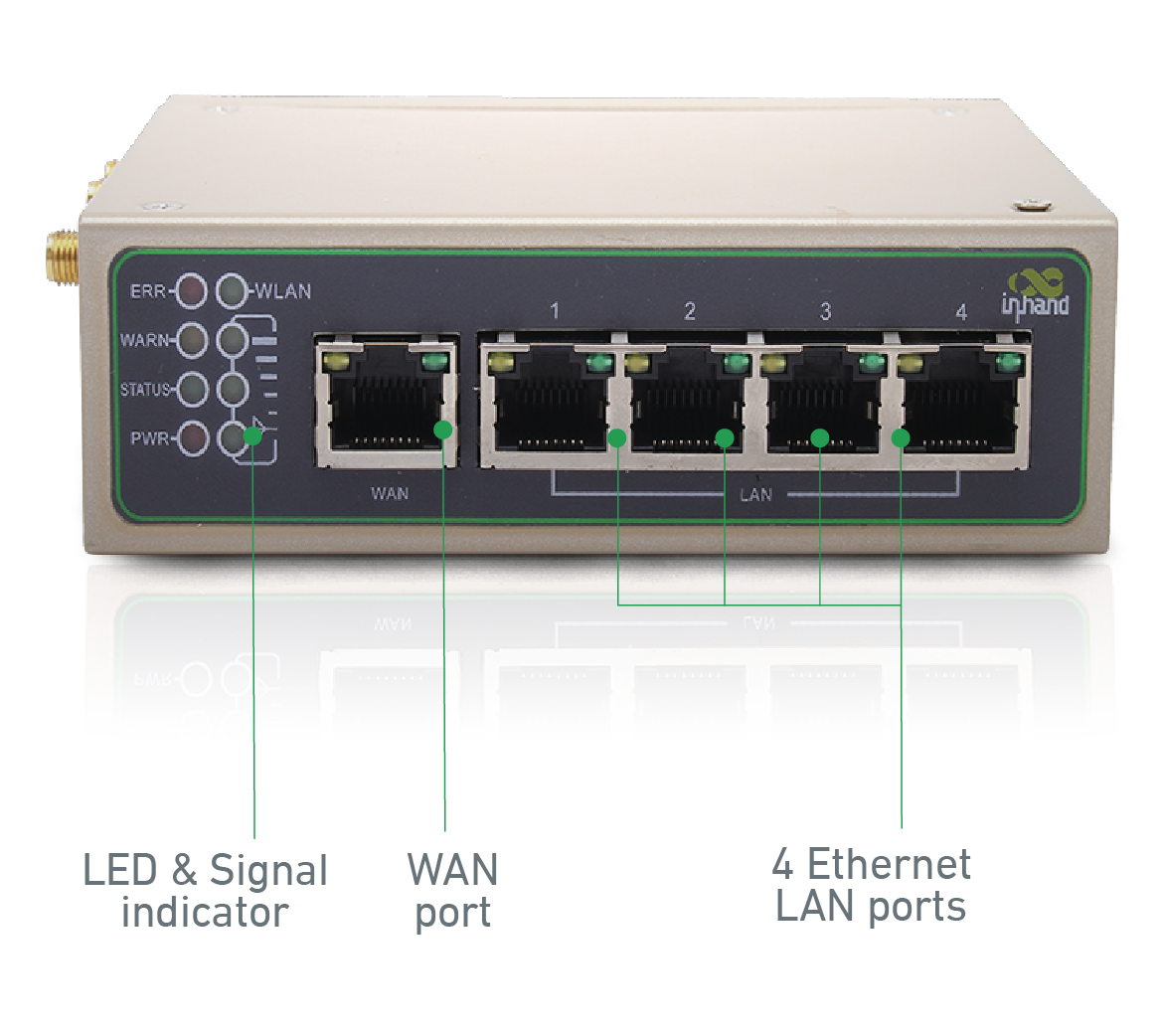 Packaging List


Certification