ISE2008D Switch - Industrial Grade Unmanaged Switch
ISE2008D Unmanaged Switch with 8*10/100 Base-T(X) RJ45 ports, is designed to meet power, size, weight and environmental tolerance requirements for industrial applications. It combines high-standard wide temperature and voltage design, enterprise-level wire-speed forwarding performance, sturdy housing, industrial circuit protections and other industrial-grade features. Plug and play to meet the needs of harsh industrial environments.
Product Highlights
ISE2008D Specifications
Input Voltage
24VDC (9.6~60VDC)
Operating Temperature
-40℃~75℃
Housing Protection
IP30; Fanless Cooling

Certifications
CE, FCC, UL
ESD
8KV~15KV
Delay in Forwarding
7us

Switching Bandwidth

1.6Gbps

MAC Address Table

1k

Forwarding
0.1488M
Packet Buffer
448kb

MTBF
35 Years
Power Consumption
<5W
Lightning Protection
InHand ISE2008D provides a high-quality industrial protection with wide operating temperature, -40℃~+75℃ against harsh weather like thunderstorms.

Industrial Grade Chip
ISE2008D uses industrial-grade chips to adapt to harsh environments. It has the advantages of fast transmission speed, stable transmission and low power consumption.

Compatible with Major Brands in the Market

Industrial Quality
ISE2008D switch is guaranteed with a 3-year warranty by InHand Networks. You can use it with confidence because of the FCC, UL and CE certifications.

Easy Installation
Panel mounting and DIN-Rail mounting are available for various deployment scenarios. Metal casing with corrosion-proof coating, durable and corrosion.

Product Compare
| | | | | | | | |
| --- | --- | --- | --- | --- | --- | --- | --- |
| Unmanagement Switches | | | | | | | |
| Model | ISE2003D-O-M3-2T-SC-24 | ISE2003D-O-S203-2T-SC-24 | ISE2005D-O-5T-24 | ISE2008D-O-8T-24 | ISE2016D-P-16T-24 | ISE5005D-O-5GT-24 | ISE5008D-O-8GT-24 |
| Ethernet Port | 2 10/100Base-T(X) adaptive RJ45 ports | 2 10/100Base-T(X) adaptive RJ45 ports | 5 10/100Base-T(X) adaptive RJ45 ports | 8 10/100Base-T(X) adaptive RJ45 ports | 16 10/100Base-T(X) adaptive RJ45 ports | 5 10/100/1000 Base-T(X) adaptive RJ45 ports | 8 10/100/1000 Base-T(X) adaptive RJ45 ports |
| Fiber Optic | 1 100Base-FX adaptive port (single mode dual SC interface) | 1 100Base-FX adaptive port (Multi mode dual SC interface) | none | none | none | none | none |
| Size | 24mm x 100mm x 61.8mm | 24mm x 100mm x 61.8mm | 24mm x 100mm x 61.8mm | 40mm x 100mm x 61.8mm | 50mm x 140mm x 110mm | 24mm x 100mm x 61.8mm | 40mm x 100mm x 61.8mm |
| Switching Bandwidth | 1.6Gbps | 1.6Gbps | 1.6Gbps | 1.6Gbps | 8.8Gbps | 16Gbps | 16Gbps |
| Delay In Forwarding | 7us | 7us | 7us | 7us | 10us | 5us | 5us |
| MAC Address Table | 1000 | 1000 | 1000 | 1000 | 8000 | 4000 | 4000 |
Product Size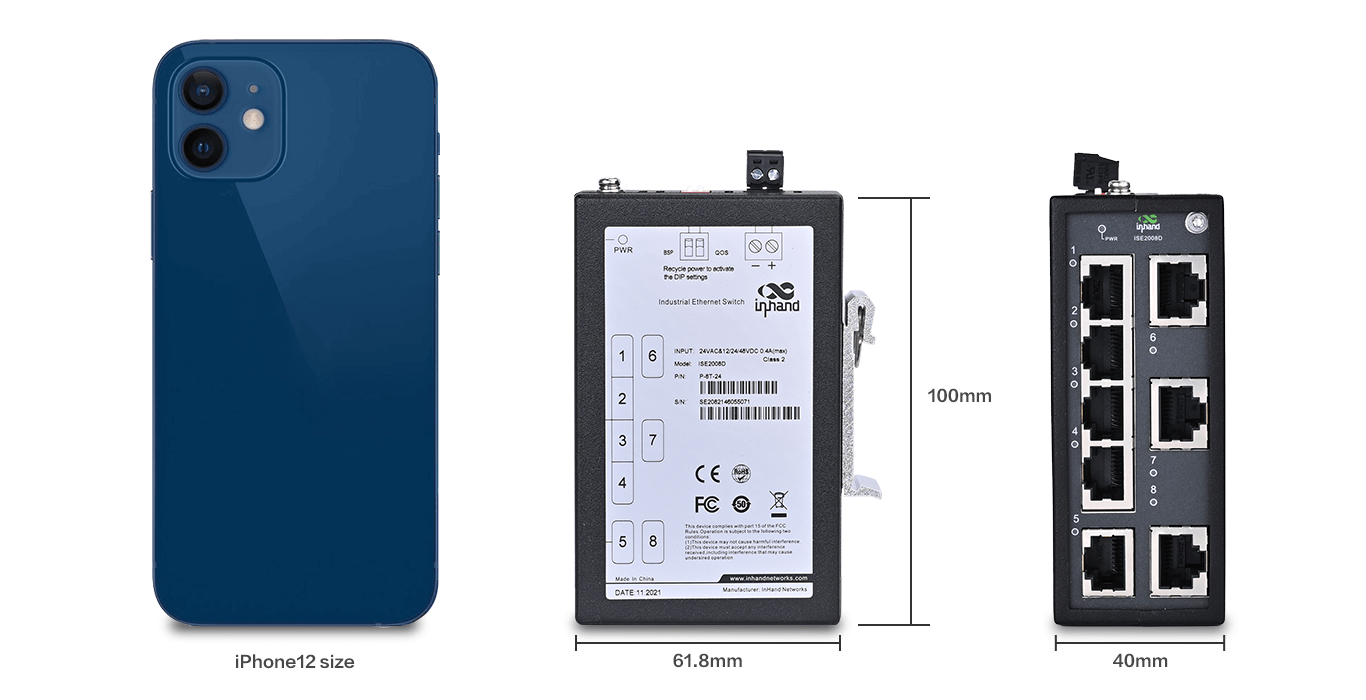 Product Detail

Applicable with Various Scenarios

Certification