Background
In order to achieve the remote centralized management of the equipment in the wastewater treatment plant, InHand Networks has developed a remote monitoring solution including the InRouter900 IoT gateway and InHand Device Networks Cloud. The complete "Cloud + End" solution enables real-time SCADA system communication and efficient remote plant monitoring & control.  
System Requirements
Remotely monitor the operation status of on-site pumping stations, pipe networks, and wastewater equipment

Perform centralized operation management with rapid response to pump station and pipe network failures

Quick Response to onsite failures and efficient maintenance

Provide a one-stop process for operation and maintenance personnel with real-time status
InHand Remote Monitoring Solution
The remote monitoring system consists of Device Layer and Cloud Layer.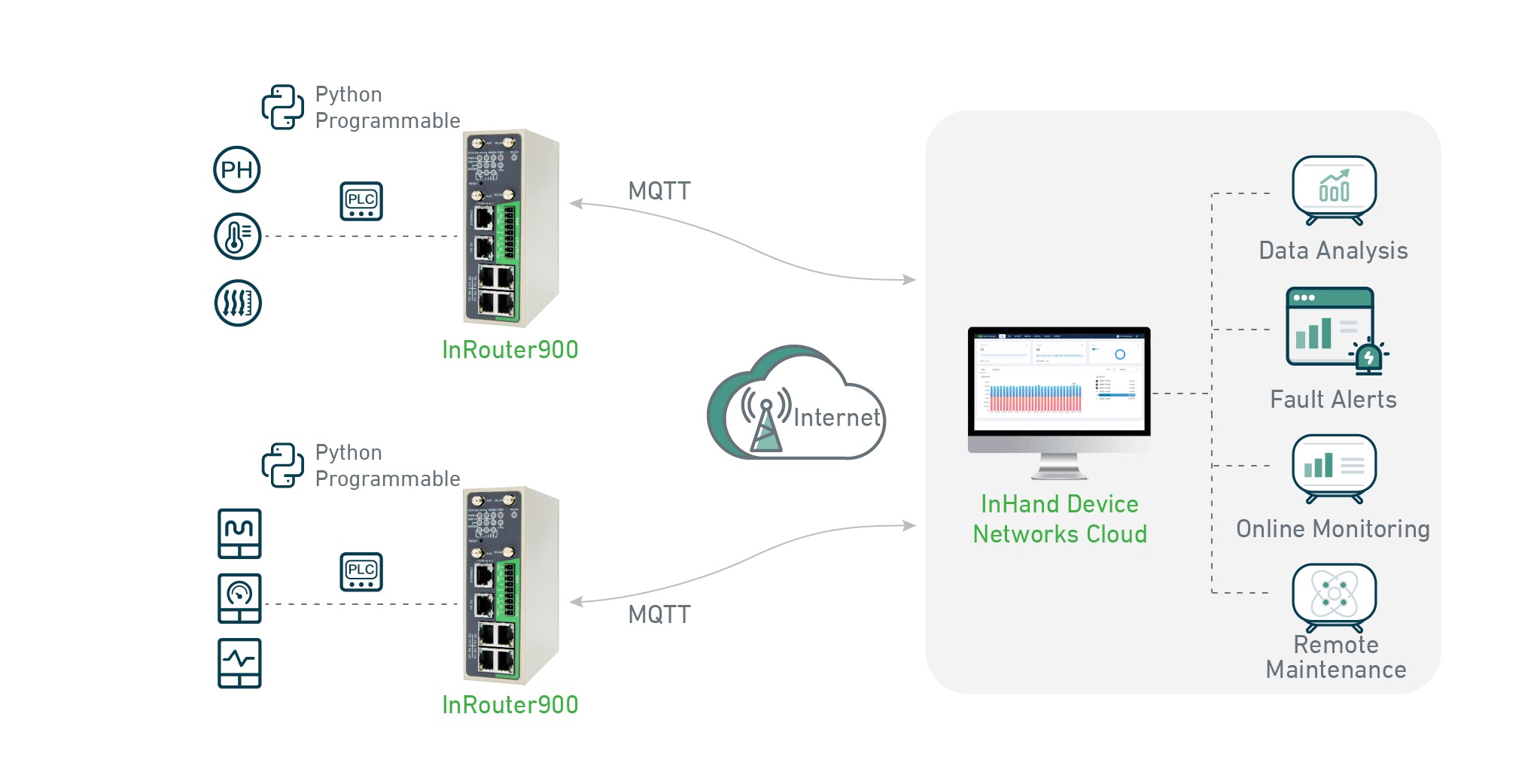 Device Layer: Wastewater treatment station utilizes the PLCs to automatically control and collect data including COD, ammonia nitrogen, hydrogen ion concentration, flow rate, concentration, equipment operation, fault status and etc. InHand InRouter900 edge computing gateway collects field data then uploads to the cloud and SCADA system to achieve real-time PLC data acquisition and operation monitoring.
Cloud Layer: The InRouter900 sends the data to InHand Device Networks Cloud via a secure VPN tunnel. Authorized users can monitor the operation status and receive fault alerts through the Web interface and mobile APP wherever they are. The Device Networks Cloud also enables remote monitoring, management, debugging and preventive maintenance.
Advantages
InRouter900 gateway: 
Utilizes Python programming to achieve data analysis and processing: customers can customize the intelligent logic process method, perform local pre-processing and sent data to the cloud server

Support local cache mechanism to reduce bandwidth costs

Industrial rugged design, IP30, dual SIM

Support VRRP and link detection mechanism to ensure redundancy 
Device Networks Cloud:
Utilizes big data analytics capabilities to analyze the health status of different nodes

Enable pre-fault alerts with machine learning and AI algorithms  

Establish a maintenance process to convert analysis to maintenance tickets

B/S architecture to support easy access via the Web interface