Background
The HVAC system is a part of smart buildings, which delivers comfortable environment with good air quality. Development of urban construction, increasing awareness for environment protection and energy saving, the HVAC system is expanding, and so is the cooling/heating area. Operation management of the HVAC system becomes even more complex. Manufacturers and service providers are facing higher requirements for fault detection, maintenance, monitoring and data collection of HVAC equipment. It is necessary to adopt the latest technology for real-time monitoring of HVAC systems.
InHand Networks offers its "Cloud + Edge" solution for HVAC system remote monitoring, helps manufacturers remotely monitor operation status of the equipment, facilitating management and energy saving.
Solution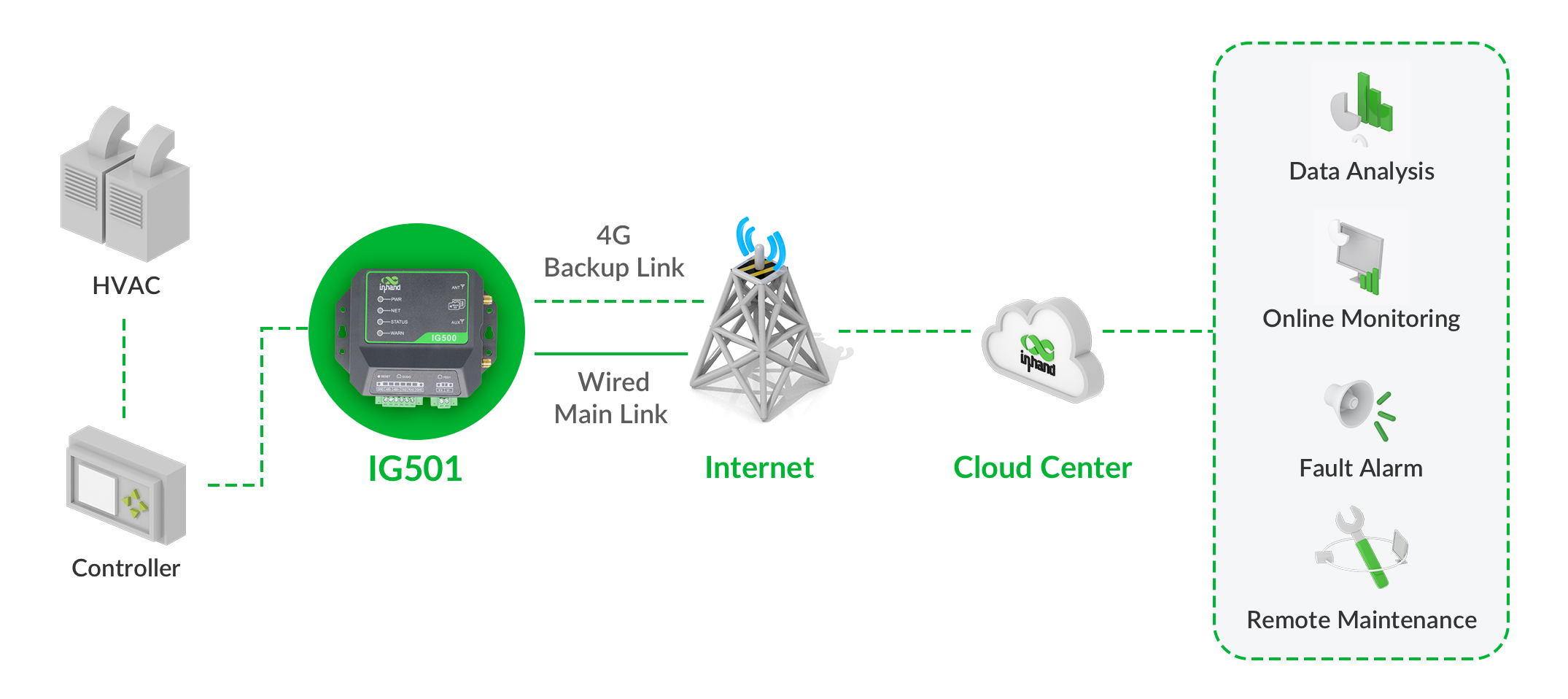 The InGateway500 is connected to the HVAC controller, so that operation data from various equipment (including water-cooled chillers, air-cooled cold-water heat pump units, water source heat pump units, hot water units, multi-line, air handling units) are collected, pre-processed, filtered and washed on the edge. The processed data is then sent via MQTT to the cloud center, where the operation status of cellular data transmission terminals is constantly monitored. With powerful data monitoring and analysis capabilities of the platform, different types of data from the HVAC equipment are controlled and managed, so that the whole system is inter-connected and constantly monitored.
Advantages
With Python development and powerful edge computing capabilities, users can customize smart logic processing for local data, relieving load on the cloud
Breakpoint resume supported, built-in 256MB FLASH, Micro-SD card supported
Multiple industrial protocols supported, including Modbus TCP, Modbus RTU and ISO on TCP
InHand "cloud + edge" solution greatly shortens testing periods and reduces workload for deployment
Data are transmitted via MQTT IoT protocol, outperforming traditional VPN
All industrial-grade design, offering reliable, secure and stable data transmission for unattended sites