InHand Industrial LTE 4G Cellular Router with WiFi and Dual SIM
InRouter615-S (also IR615-S) is a professional industrial 4G wireless router with fast connection up to LTE CAT 6. The industrial router is equipped with 5 Ethernet ports, serial port RS-232/485, and WiFi interface. Quick to deploy, easy to manage and flexible for applications across the most demanding market sectors. The industrial router will ensure stable connectivity with Dual SIM 4G failover and 3G, 2G fallback.

Fully Industrial Router
The industrial router, IR615, with EMC level 3, fan-less cooling, solid metal shell, strong resistance to vibration and shock, reduces fault rate effectively. Panel mounting and DIN-Rail mounting are available for various deployment scenarios.

Comprehensive Security
The IR615 is a VPN router with security protection, including encrypted data transmission, firewall protections and multi-level authorization control.

Continuity and Reliability Networks
With Dual SIM 4G failover and link backup, IR615 can switch automatically to secondary GSM operator if the main mobile data connectivity is lost. It provides a reliable network connection for users.

Easy-to-Use Web

 Management

The user-friendly web interface will help you with the configuration and management of IR615 more efficiently.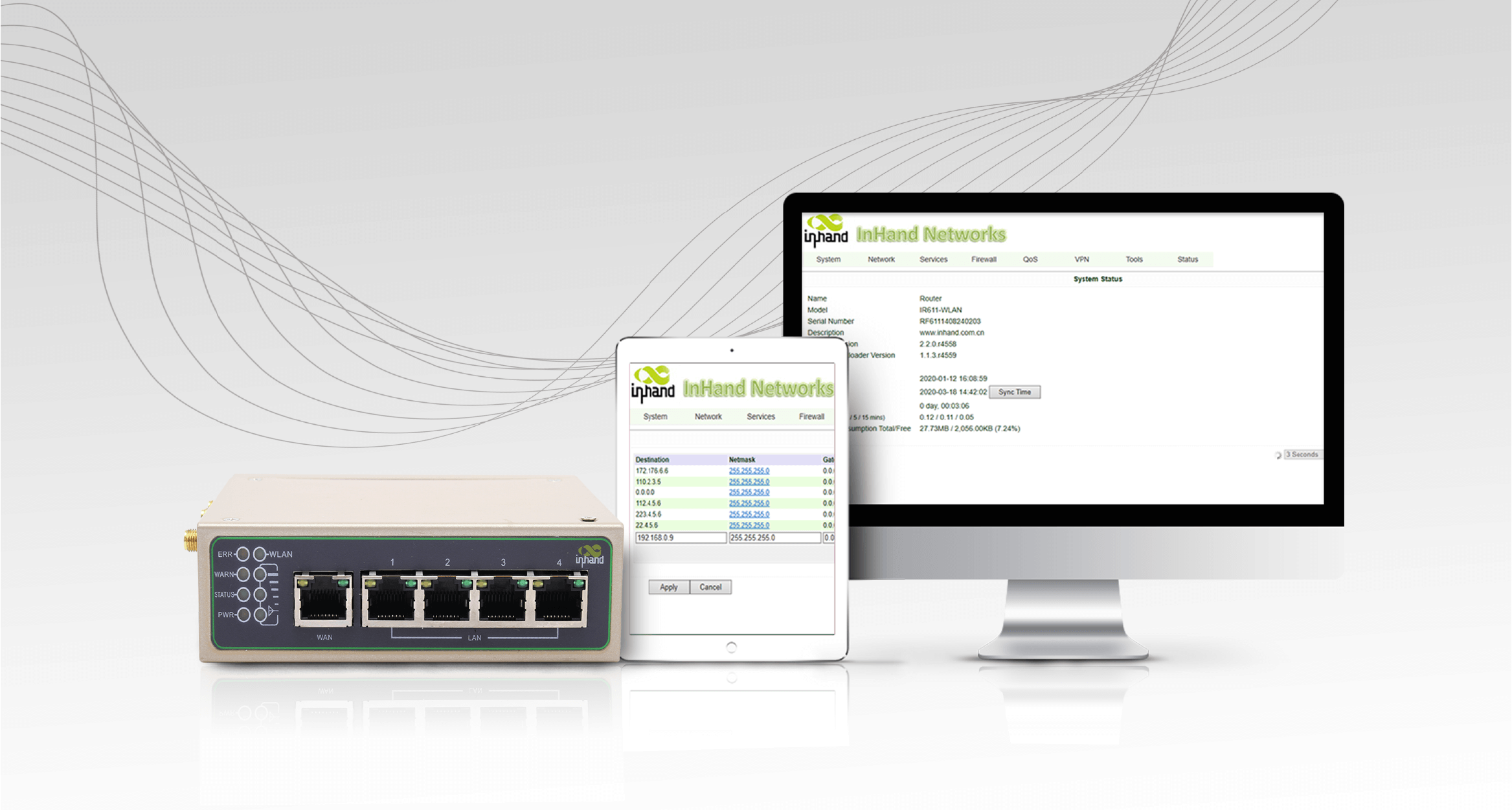 Device Manager-Free Remote Centralized Management Platform
The R615 is also compatible with the free centralized cloud management platform, InHand Device Manager. This platform offers remote management, allows the status and parameters for solving IoT solutions conveniently.

Product Compare
InRouter
Model

IR301

IR302
IR305
IR305-S
IR615-S
IR915
CR202
Cellular network
CAT M
CAT 4/1
CAT 6/4/1
CAT 6/4/1
CAT 6/4/1
CAT 4/3
CAT 6
Wi-Fi (Optional)
2.4GHz (802.11b/g/n)
2.4GHz (802.11b/g/n)
2.4GHz (802.11b/g/n)
2.4GHz (802.11b/g/n)
2.4GHz (802.11b/g/n)
2.4GHz (802.11b/g/n)
2.4GHz (802.11b/g/n)
VLAN
-
-
✔
✔
✔
✔
-
Wi-Fi Antenna
1
1
2
2
2
2
Ethernet Port
1*10/100 WAN/LAN
1*10/100 LAN/WAN
1*10/100 LAN
1*10/100 WAN/LAN
4 *10/100 LAN
1*10/100 WAN/LAN
4 *10/100 LAN
1*10/100 WAN
4*10/100 LAN
1*10/100 WAN
4 *10/100 LAN
1*10/100 WAN/LAN
Serial Port
1*RS232/RS485
-
-
1*RS232, 1*RS485
1*RS232/RS485
1*RS232, 1*RS485
-
I/O Port
-
-
4*DI or DO
-
-
1*DI, 1 relay output
-
EMC Level
Level 2
Level 2
Level 3
Level 3
Level 3
Level 4
-
Battery
Level 2
Level 2
-
-
-
5000 Amh
Applications
Product Detail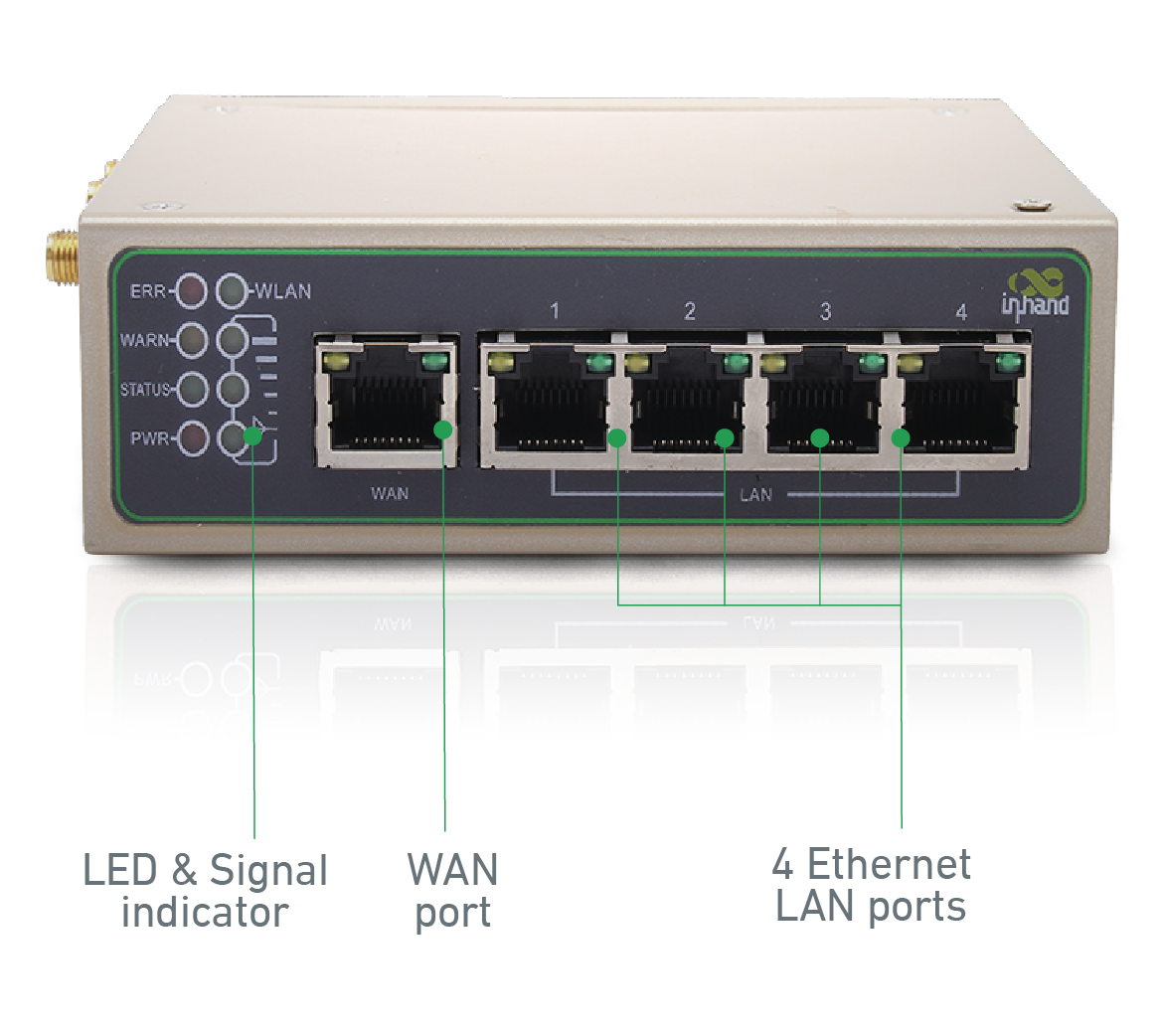 Packaging List

Certifications